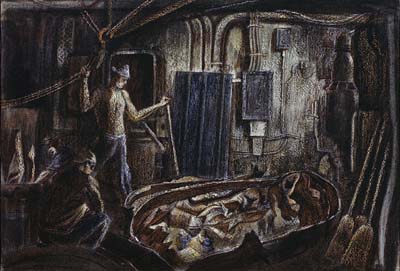 Title :
Path of the Bomb
Artist :
Jamieson, Mitchell

NAVAL HISTORY & HERITAGE COMMAND
Navy Art Collection Series Number: 333
WWII, July 1945, M. Jamieson, Okinawa. Inscription on attached
sheet on reverse side 16 lines: "Path of the Bomb" July 1945 Okinawa,
Mitchell Jamieson, upper handling room of a 2200 destroyer … she was
then slated for repairs at an ARD floating drydock. -
reverse side: unidentified scene of burning village, watercolor + crayon.